HOTEL CALIFORNIA – THE ORIGINAL TRIBUTE TO THE EAGLES 2022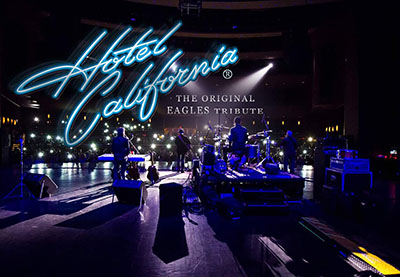 NOTE: To view our current COVID Policy and Requirements, please refer to our website.
SATURDAY, DECEMBER 3, 2022 8:00PM
Presented by: Blackrose Entertainment
For almost three decades,
HOTEL CALIFORNIA
have been recreating the legendary sound of
THE EAGLES
, and thrilling audiences all over the world.
The band set the bar very high back in 1986, and they've remained the industry leading substitute for T
he Eagles
ever since. Playing to huge outdoor and arena audiences, sharing bills with some of rock's legends, and going places no tribute band has gone before. A long run by any measure, but it begs the question: what makes
HOTEL CALIFORNIA
so special? How about incredible lead vocals, intensely accurate instrumental work, soaring harmonies, and top flight live performances, just for starters. These are the band's hallmarks, and the foundation on which their reputation has been built.
Recommended Age: 14+Age Restriction: 7+

HOTEL CALIFORNIA's show has evolved into a masterful celebration of The Eagles' music. One of the most game-changing song catalogs in the history of rock n' roll is performed to perfection before your eyes and ears. If you love The Eagles, then welcome to the Hotel California – you've just found the next-best thing. You can check them out any time you like, but you'll never want to leave.