STYX & JOURNEY TRIBUTE - FEATURING GRAND EVOLUTION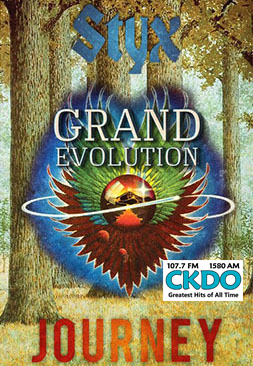 NOTE: To view our current COVID Policy and Requirements, please refer to our

website.



FRIDAY, JUNE 23, 2023 8:00PM
Presented by: Blackrose Entertainment in Association with CKDO 107.7FM 1580AM
Grand Evolution
is a group of 5 world class, journeymen musicians brought together by their admiration for the legendary sounds of 2 of the biggest, multi-platinum selling acts of the commercial rock era….
JOURNEY and STYX.Grand Evolution
takes you back to the vinyl era performing one hit after another of some the most historic and successful songs ever written. With period authentic costuming and note for note replication of the original recordings, you'll find yourself singing along to songs that where staples of the era.
Recommended Age: 7+Age Restriction: 2+