FOREVER SEGER - THE SILVER BULLET EXPERIENCE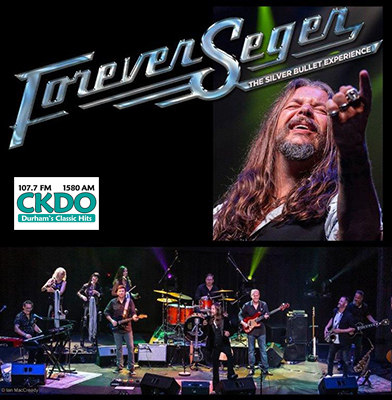 NOTE: To view our current COVID Policy and Requirements, please refer to our website.
FRIDAY, OCTOBER 21, 2022 8:00PM
Presented by: Blackrose Entertainment in Association with CKDO 107.7 FM 1580 AMWelcome to the best Bob Seger Tribute in Canada!
FOREVER SEGER
, creates the dynamic journey through the timeless music of
Bob Seger
featuring lead singer, Kevin Reid. Authentic vocals, commanding performance and Reid's unmistakable 1970's Seger-look, captures their audience and propels The Silver Bullet Experience onto the top-ranking concert stages and festivals in North America.
Every performance of FOREVER SEGER explodes with the unique, gritty energy of "Heartland Rock", showcasing these 10 select, industry musicians based out of Toronto, Canada.
With Musical Director, John Jamieson, this team of seasoned pros commit to making each concert an experience - an invitation that sees fans jumping out of their seats, dancing and singing to the soundtrack of their lives.
Recommended Age: 14+Age Restriction: 7+
Drums and bass set the solid, powerhouse groove with 2 electric guitars sharing the spotlight. Three back-up vocalists, The Segerettes, add their distinct harmonies and sparkle. Classic sax lines ring out delivering all the iconic moments, while a stack of keyboards and grand piano carries the musical lead. All of this collectively supporting Reid as they reach into the hearts of Seger-fans, making new memories that live along with the ones they have cherished for decades, proving that "Rock and Roll Never Forgets"

"The excitement and thrills from the audience when they heard the ever present Seger vocals come from the lead singer brought the roof down and everyone's trip down memory lane was just starting!!!" – Superfan Kyle T.