DREAMER - THE SUPERTRAMP EXPERIENCE 2022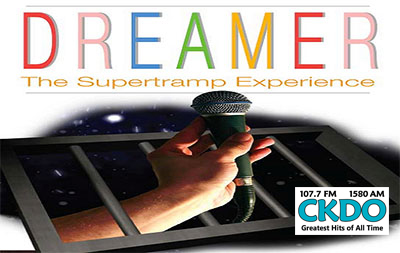 NOTE: To view our current COVID Policy and Requirements, please refer to our website.
SATURDAY, NOVEMBER 12, 2022 8:00PM
Presented by: Blackrose Entertainment in Association with CKDO 107.7 FM 1580 AM
DREAMER is the authentic re-creation of the legendary '70′s rock band Supertramp. An 8 piece group of multi-instrumentalists perform all of the sounds used in the real Supertramp show, from sax, clarinet, trombone, vintage keyboards and of course the unmistakable Supertramp vocal sound.
The musicians for DREAMER are hand-picked for their incredible expertise in capturing the often intricate arrangements of Supertramp's material. Having great musicians is a strong compliment to the feature vocals of Roger Hodgson and Rick Davies, expertly performed by keyboard player and singer Rich Hamelin.
Complete with projections and period style costumes, DREAMER will take you on a musical journey back in time to when music was performed by musicians, not computers. It doesn't get any better than this!
Recommended Age: 14+Age Restriction: 7+