JOHNNY CASH AT FOLSOM PRISON REVISITED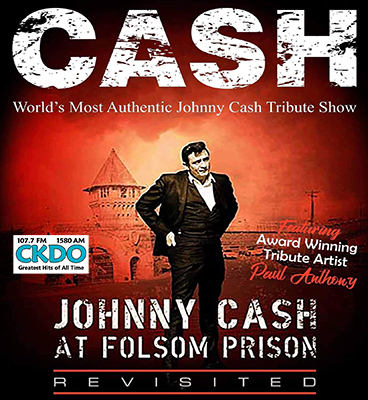 NOTE: To view our current COVID Policy and Requirements, please refer to our

website.
SATURDAY, JUNE 17, 2023 8:00PM
Presented by: Blackrose Entertainment in Association with CKDO 107.7 FM 1580 AM
CKDO
Presents A Fathers day Special, with the World's Most Authentic Johnny Cash Tribute!
This show attracts every possible demographic from ages 10 to 110 years of age, and one that everyone will enjoy and connect with.
We all have either grown up listening to Johnny's music in our parents' home, experienced a
Johnny Cash
television show,
Johnny Cash
movie or a live performance somewhere in the world. J
ohnny Cash
spent his life writing music and telling the stories of people from all walks of life, people from both sides of the track. Our Mission is to continue telling the
Johnny Cash
Story with the sounds and storyline of the '
Man In Black' Johnny Cash
.
Every effort has been taken to re-create the sounds of
Johnny Cash
. From the Guitar playing sound of
Luther Perkins
, The Stand Up Bass sound of
Marshall Grant
, The Drumming sound of '
Fluke' Holland
and the vocal sound of '
The Man In Black' Johnny Cash
.
Recommended Age: 14+Age Restriction: 7+
The World's Only Johnny Cash Tribute Artist invited by John Carter Cash to record an album 'The Nashville Connection' at Cash Cabin along with Johnny Cash's musicians, Johnny's one and only drummer, WS Fluke Holland, John's bass player Dave Roe, Guitar player Kenny Vaughan, Chris Scruggs and Grammy Winning Producer Chuck Turner at Cash Cabin As well as record an acoustic version of John's final release Hurt from the chair in the Hurt video Filmed in Johnny Cash's farmhouse living room in Bon Aqua Tennessee on 9/11/16 Paul continues to work closely with WS Holland and John's youngest daughter, Tara Cash, to maintain the accuracy and authenticity of his tribute to the Man In Black, Johnny Cash.