CHILLIWACK - CANADIAN LEGENDS -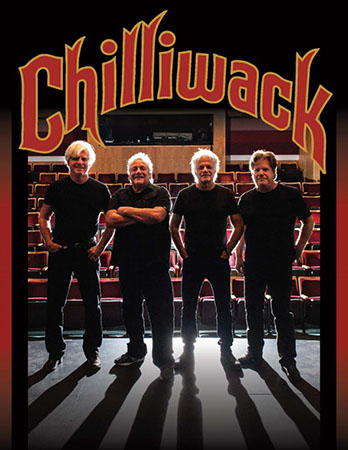 NOTE: To view our current COVID Policy and Requirements, please refer to our

website.
SOLD OUT!
SATURDAY, MAY 27, 2023 8:00PM
Presented by: Blackrose Entertainment in Association with Regent Theatre Back by popular demand after their last sold out show at the Regent Theatre!
Rising out of the ashes of psychedelia in 1969, Canada's legendary
Chilliwack
released 12 albums over a 15 year period producing numerous Canadian and international hits including "
Lonesome Mary", "Fly At Night", & "California Girl"
in the 70's; and
"My Girl (gone gone gone)", "Whatcha Gonna Do"
in the 80's.
All this work led to fifteen gold and platinum certifications, a host of awards, high profile TV appearances and coliseum concert tours.
Chilliwack's
reputation for consistently powerful shows continue, and with the live CD 'There and Back' is still winning over new fans and delighting long time ones,
Bill Henderson
and the band are rocking like never before. Hearing the revitalized
Chilliwack
of today is like hearing those songs for the first time… all over again.
Recommended Age: 14+Age Restriction: 7+
-THE HIT LIST-
My Girl (Gone Gone Gone) • I Believe • Crazy Talk • Lonesome Mary • Watcha Gonna Do Secret Information • Lean On Me • Fly At Night • Baby Blue • Arms Of Mary • Raino • Don't Stop • Something I Like About That • Come On Over • Something Better • California Girl Never Be The Same • Trial By Fire • Guilty • Don't Want To Live For A Living • On The Road To Paradise • Who's Winnin' • Got You On My Mind • Are You Really Gonna Walk Out


Robin Benedict - Opening Act
Robin has been songwriting and performing for over two decades. Her whole world changed when she had a video of her in her car singing
Heart Of Glass
reach 5 million views on social media. It was then she released an EP for her new found fans and toured across America. Robin has recently been acquainted with Juno Award Winning Songwriter and Producer
Rob Laidlaw
(Platinum Blonde, Kim Mitchell, Alanah Myles).
Rob is currently co-managing Robins Career to expose her talents to the world at large.
VIDEO
www.robinbenedict.ca