THE CANINE CIRCUS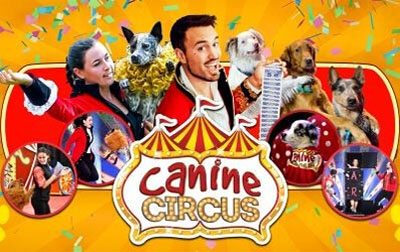 NOTE: To view our current COVID Policy and Requirements, please refer to our
website
.
SATURDAY, SEPTEMBER 30, 2023 1:00PM
Presented by: Blackrose Entertainment in Association with CKDO 107.7 FM 1580 AM
THE CANINE CIRCUS - BONE-DROPPING FUN!
We're taking the circus for a walk! Witness our world-renowned furry four-legged cast members perform tail-wagging feats of courage, bone-dropping grand illusions, and Labrador-able stunts! Watch the miracles and mayhem unfold all around you!
As seen in the 2022 Canada's Got Talent! Featuring acts from
African & European Circus, Cirque Du Soleil alumni
, and
world champion performers!
Hosted by international illusionist Aaron Matthews, who's performed at festivals and on the biggest stages across Canada. This includes
Canada's Wonderland, West Edmonton Mall, Illusionarium Toronto, the Disney Channel, ETalk, and YTV!**All the dogs that perform in our show are trained using positive methods. They are rewarded with treats, praise, and love. They are the family pets of the trainers and are performing "playing with" on stage. The bond between the handlers and their pets is evident and that is the real magic of the show!
Age Restriction: 2+
*Every person requires a ticket, regardless of age. This includes children seated on a guardians lap. Infants in a carrier will not be permitted.