RELIVE THE MUSIC OF THE 50'S & 60'S SHOW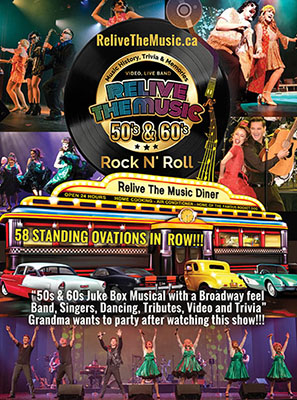 SUNDAY, OCTOBER 1, 2023 7:00PM

*SOLD OUT*




Presented by: S.A.M. Productions Ltd.
A one of a kind show
that takes the audience through
Music History, Trivia & Memories
of the
50s & 60s
. You will learn many things you never knew about these artists. You will see an energetic band, amazing frontline singers and dancers transforming and re-living through two decades of music, costumes, trends and dancing along with informative video imagery in the background.
Multiple SOLD OUT shows, with 58 STANDING OVATIONS in a row!
Performing HITS from
Roy Orbison, Johnny Cash, Frank Sinatra, Doris Day, Patti Page, Dean Martin, Fats Domino, Little Richard, The Rolling Stones, Steppenwolf, Led Zeppelin, The Platters, Bill Haley and the Comets, Elvis, Paul Anka, Patsy Cline, Jerry Lee Lewis, Ritchie Valens, Buddy Holly, Ricky Nelson, Chuck Berry, Connie Francis, The Beach Boys, Chubby Checker, Dion, The Chordettes, Nat King Cole, Aretha Franklin, The Four Seasons, The Beatles, The Temptations, The Supremes, The Rolling Stones, Sonny and Cher, The Shirelles, The Righteous Brothers, The Marvelettes, The Angles, Nancy Sinatra, The Ronettes, The Ventures, Tina Turner, Neil Diamond
, and many more….
Recommended Age: 10+Age Restriction: 5+