TARTAN TERRORS - THE CELTIC INVASION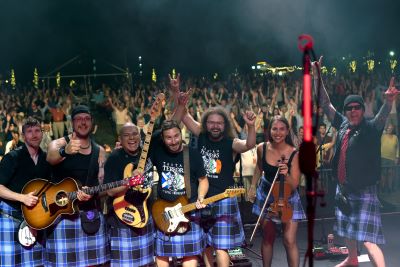 SUNDAY, NOVEMBER 19, 2023 8:00PM
Presented by: Blackrose Entertainment
Tartan Terrors
bring their Celtic Invasion to festivals and shows across North America, blending the energy of a rock show with humour and stepdance.
With a distinctive sound and a proud tradition of making Celtic music fun and accessible to any audience, the Terrors have played big stages across North America, including Market Square, St. John NB, sharing the stage with Scott Helman, and The Beaches, and the Celtic Music & Craft Beer Festival in Dunedin, Florida, with Eileen Ivers.
"The heirs apparent to the [Celtic] mayhem"
- Celtic Beat Magazine
"There was something for everyone to enjoy, from your wonderful dancing to the humor in Ian's between-songs patter, to the Irish/Scottish/Canadian Music"
- Lone Tree Arts Center
Recommended Age: 12+Age Restriction: 7+
VIDEO